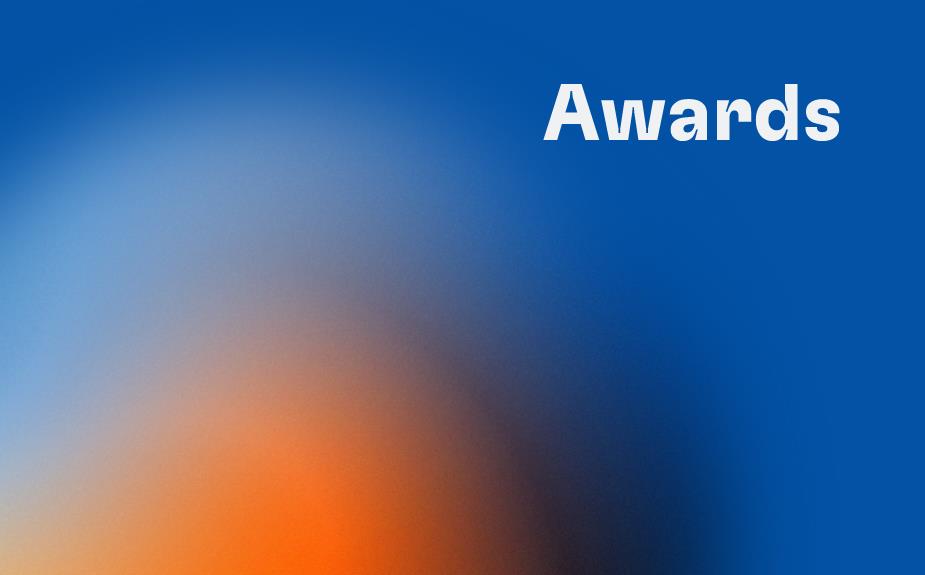 BSA Design Award Winners
23 January 2023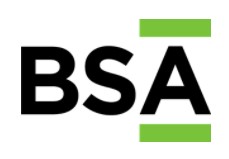 The Boston Society of Architects recently announced their 2022 Design Award winners and we are proud to have collaborated on seven of the winning projects.
Honor Award for Design Excellence
Allston, MA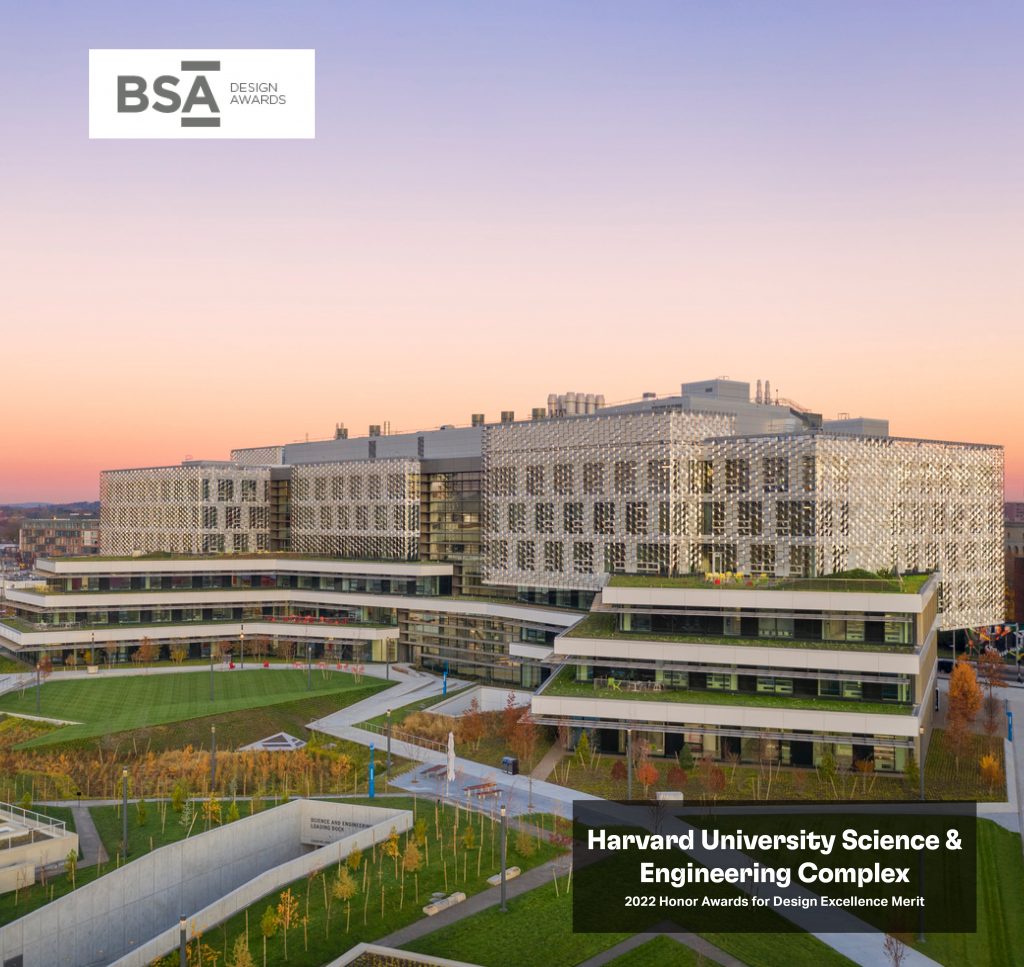 Setting a new paradigm for scholarship in the 21st century and beyond, Harvard's Science and Engineering Complex (SEC) is designed to inspire learning and scientific discovery while showcasing sustainability. The eight-level, 544,000-square-foot building is organized into three four-story volumes connected by two glazed, multi-story atria that provide light-filled social hubs for faculty and students.
Architect: Behnisch Architekten
Boston, MA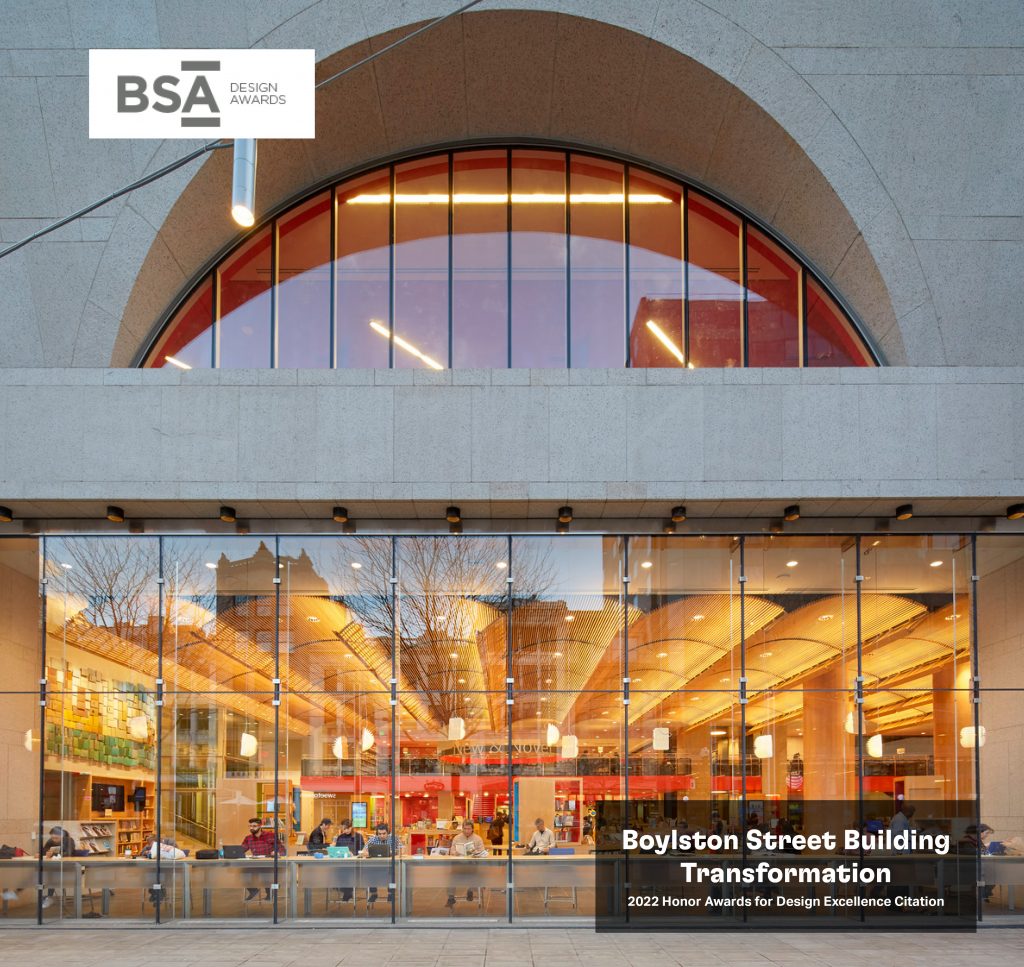 The Johnson Building project consists of 156,000 square feet of renovations (in two phases) to the landmarked 1972 Phillip Johnson Addition to the Central Branch of the Boston Public Library. Phase 1, completed in early 2015, provides greater and improved amenities for the Reference, General Collections, Children's, and Teen's areas.
Architect: William Rawn Associates Architects
Boston, MA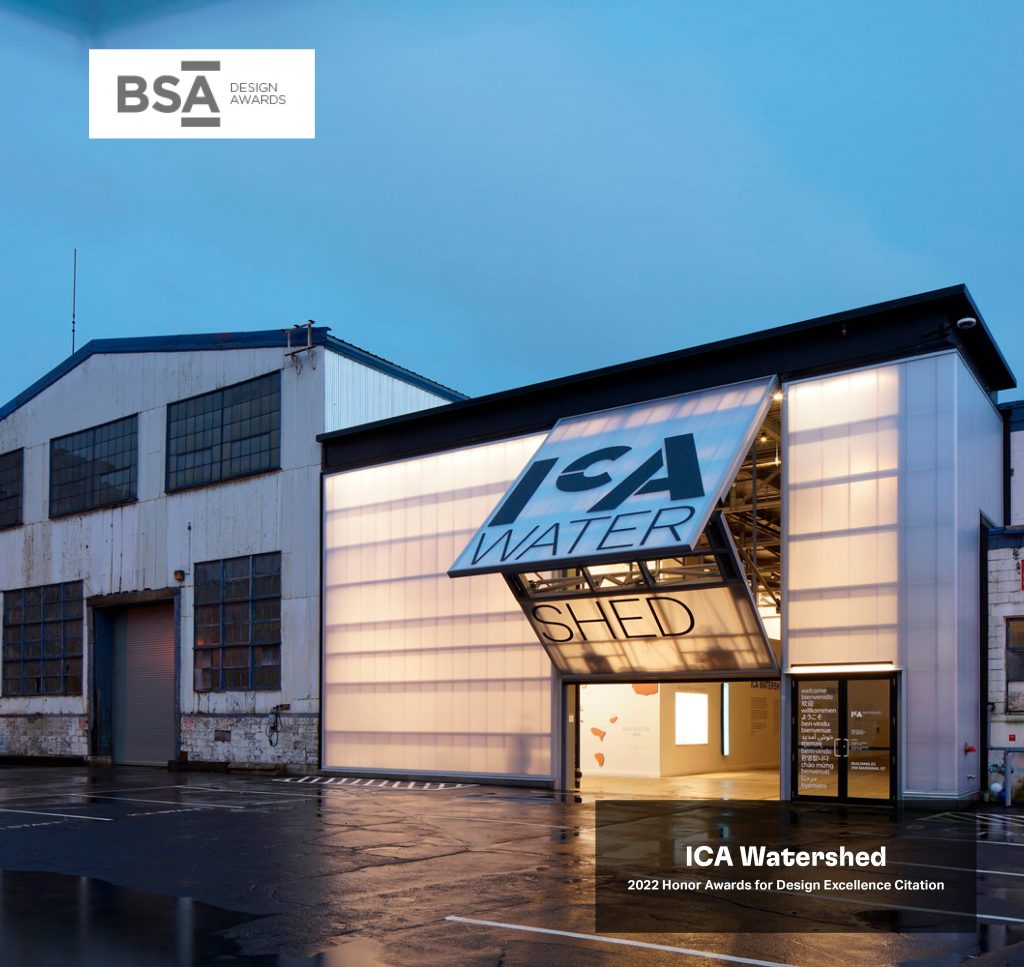 Located in a 15,000-square-foot industrial space at the active East Boston Shipyard, the ICA Watershed creates a unique setting for artistic exploration. Visitors are greeted by translucent polycarbonate façade on either end of the elongated space, illuminated from within to create a lantern effect, visible from across the Boston Harbor. Breaking from the typical black box gallery model, daylight pours through a narrow skylight, exposing the richly textured concrete-and-cinder-block surface of the west wall, while linear fixtures tucked behind beams wash the opposing white wall.
Architect: Anmahian Winton Architects
Healthcare Facilities Design Awards
Brookline, MA
The Brain, Mind & Behavior Center of Boston Children's Hospital provides a central location at 2 Brookline Place for a variety of primary care services, including general pediatrics, auditory & speech, neurology & psychological services, an autism spectrum center, and a Down Syndrome program, plus x-ray, phlebotomy, and an MRI with MRI simulator, as well as research and laboratory facilities.
Architect: Isgenuity
Interior Architecture & Spatial Design Awards
Lenox, MA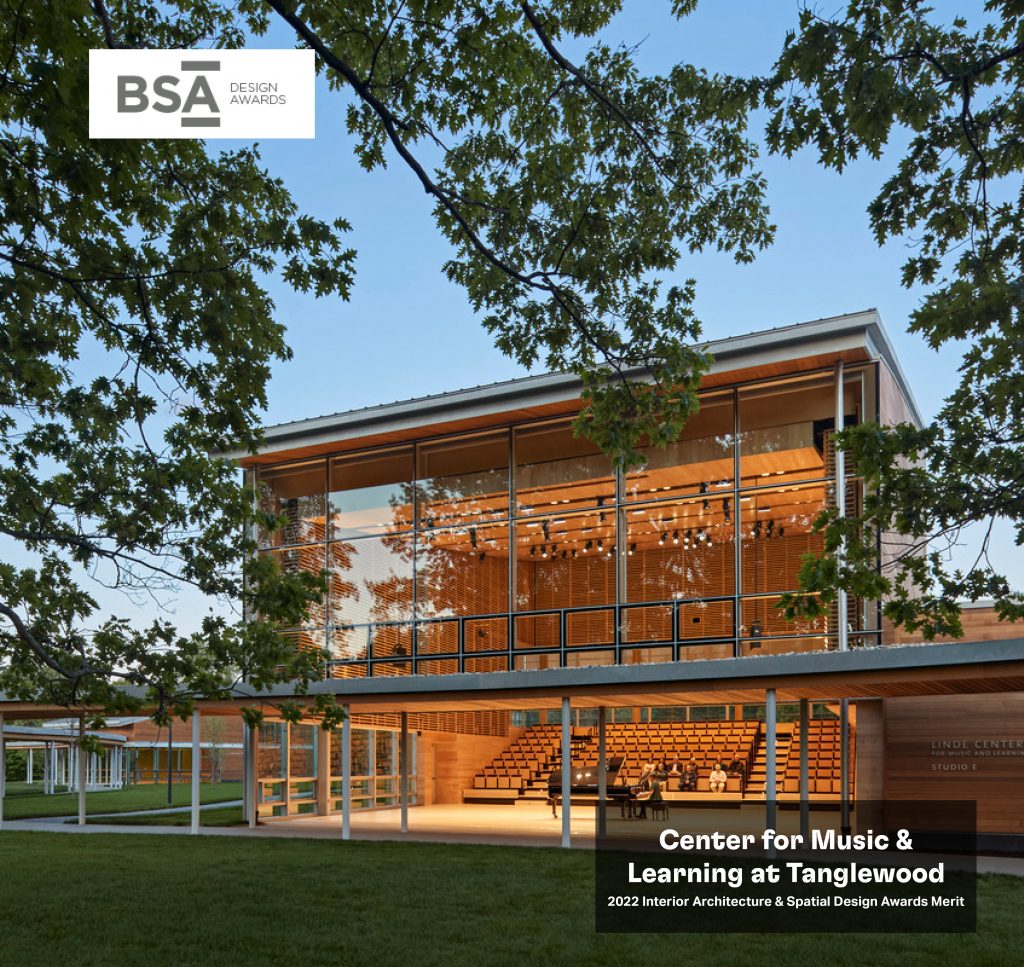 The Linde Center for Music and Learning on the Tanglewood campus in Lenox, MA is located in the idyllic Berkshires. It includes three rehearsal buildings, with the largest of the three providing a performance space, connected to a café. A winding pathway between the buildings is thoughtfully lit by off-center downlights, reducing light spill to the outdoor performance area. Dimmable exterior lighting allows for ambient levels during concerts, while reducing light trespass for neighbors. This comfortable outdoor concert venue is a perfect place to bring a blanket and picnic basket and to enjoy an evening of lovely music. n.
Architect: William Rawn Associates Architects
Boston, MA
This adaptive reuse project in Jamaica Plain's Jackson Square comprised of a historic 1890 brick building with a late 1990s-era addition, as the new home for the non-profit The Possible Zone, dedicated to advancing equity through youth entrepreneurship, education, and career opportunities.
Architect: Utile, Inc.
K-12 Educational Facilities Design Awards
Lexington, MA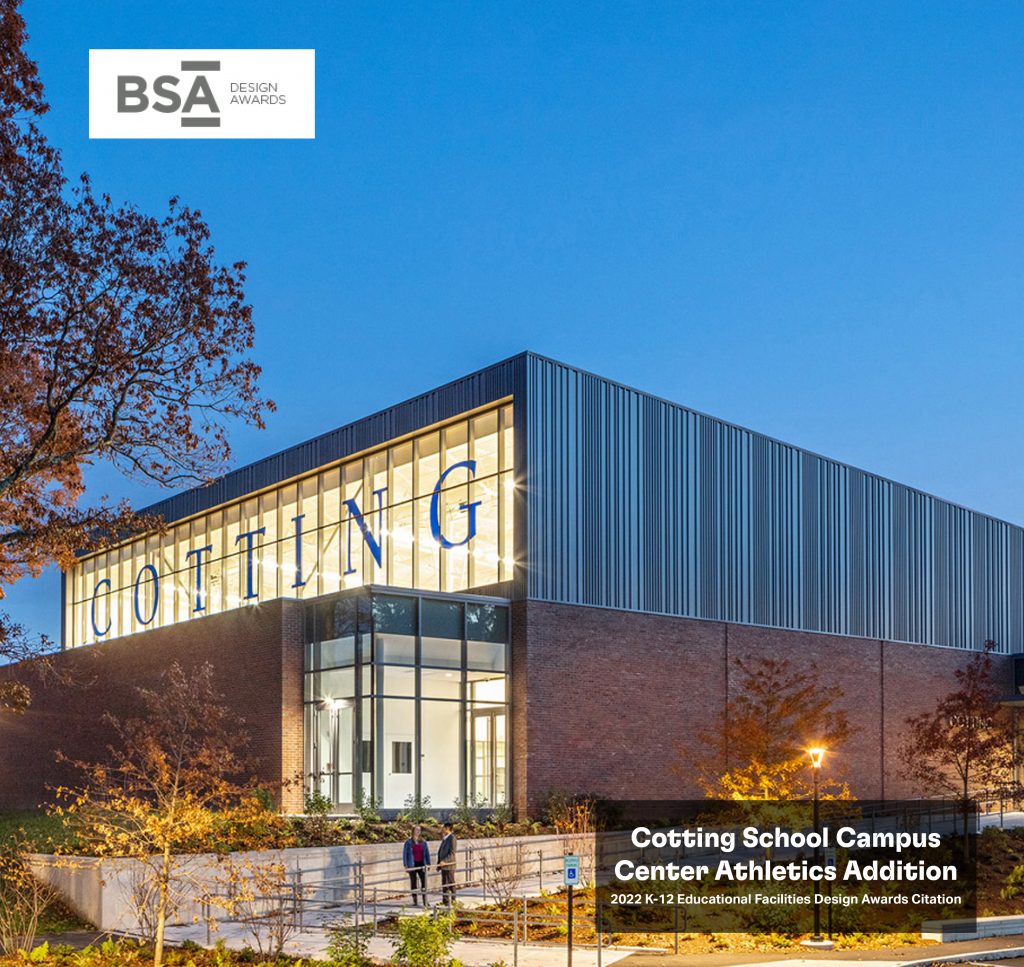 Image courtesy of BSA Awards Submission
Cotting School is a private non-profit school that serves the needs of students with a broad spectrum of learning and communication disabilities, physical challenges and complex medical conditions. The 25,000 sf Campus Center addition provides desperately needed space for Cotting's athletic and academic programs and serves as a social hub for the school's 120 students drawn from 70 cities and towns in the greater Boston area. The gym, bowling lanes, fitness center and adaptive climbing wall give students opportunities to engage with peers in a safe and stimulating setting unavailable to them outside of school or in their home communities.
Architect: ARC/Architectural Resources Cambridge, Inc.
We are humbled to work on award-winning projects with such talented clients. We are privileged to be afforded the opportunity to contribute to the design of these stunning architectural works of art.
Congratulations to all of the winners!