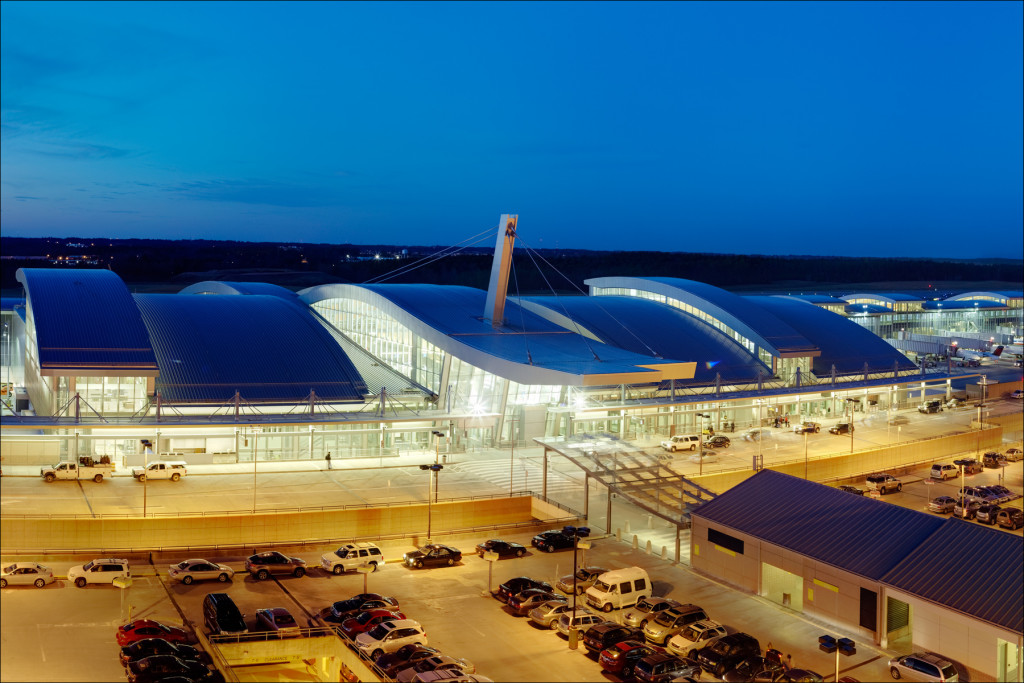 Raleigh-Durham International Airport
---
---
---
---
Fentress Bradburn Architects, Ltd.
---
---
The Raleigh-Durham International Airport Terminal 2 combines the region's heritage and landscape with architectural forms and materials. Its roofs evoke the hills and culture of North Carolina's Piedmont region, while the daylit interior provides natural, invigorating light for weary travelers.

Energy efficient, long-life linear fluorescent concealed fixtures provide the majority of the building's interior illumination. Working with the long, extruded form of the concourse, multiple rows of linear fluorescent cove fixtures cross-light the curved ceilings, providing soft ambient lighting for circulation spaces. Holdrooms with reading and seating areas, and security check points, which require higher light levels, utilize task-focused direct lighting. Careful zoning and circuiting of entire fixture rows allows for multiple light levels to be achieved by simple switching; saving on dimming costs, fixtures respond to daylight conditions and can provide 1/3, 2/3 or full output over the course of the day and under different daylight conditions.


In the larger ticketing hall volume, fully concealed symmetrical distribution metal halide fixtures are hidden on top of ticketing islands at the center of the space to supplement and mix with the fluorescent indirect lighting from the edges. In both conditions, a redundancy is built into the design to maximize the flexibility of desired light levels through careful switching, while also minimizing any possible color shift from one lamp source to another.

Terminal 2's high-tech design reflects the cutting-edge impact of three universities and numerous bioscience companies in the nearby Research Triangle Park. As the world's first major airport with a wood truss structure, Terminal 2 provides a warm, inviting passenger experience. Long-span wood trusses create column-free spaces from ticketing to security that are both efficient and flexible. The beautiful trusses and ceilings were designed to remain unmarred by lighting hardware, yet still reflect ambient light to the ticketing hall and concourse below; the lighting disappears into the architectural fabric of the building and enhances the experience of the luminous environment.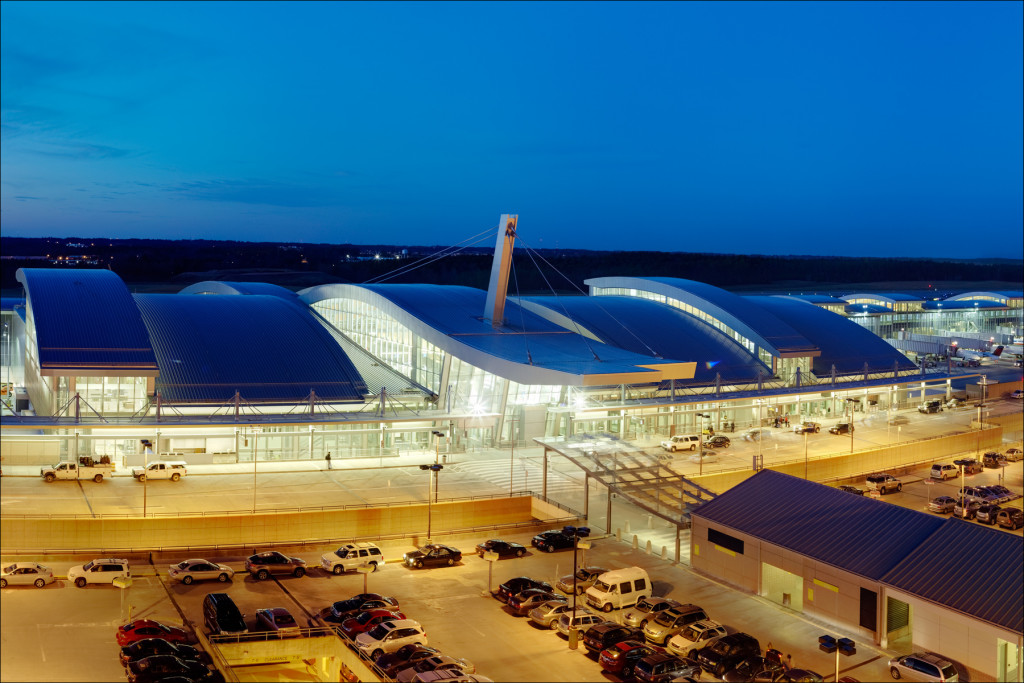 ---
Related Projects