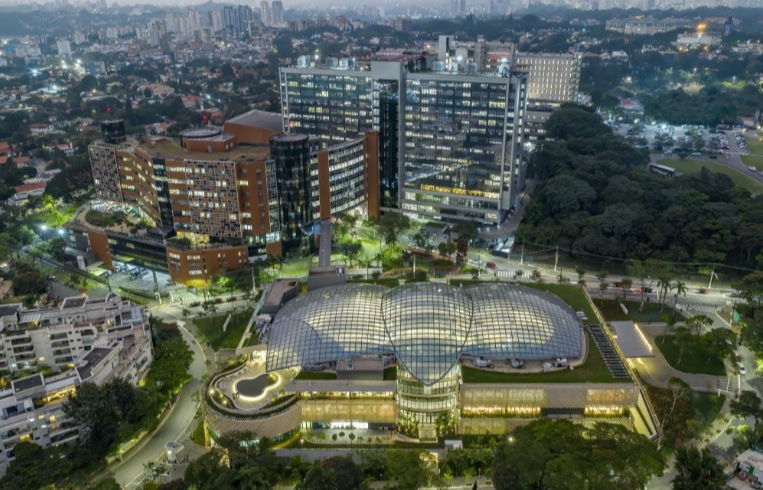 Albert Einstein Education & Research Center
---
---
---
Sociedade Beneficente Israelita Brasileira Albert Einstein
---
---
---
The Albert Einstein Education and Research Center in São Paulo, Brazil is a landmark medical teaching environment that brings together classrooms, labs, study areas, and student interaction areas in a lush garden setting.  The landscaped site flows through the building to a huge central daylight atrium, around which the spaces are organized.

Lighting concepts link the outward-facing classrooms, labs, and support spaces with inward-facing atrium spaces, creating a seamless luminous experience. Integrated strategies focus on lighting architectural surfaces and landscape features to reenforce the overall project vision of an "oasis for learning".

Two challenges emerged.  First, due to budget constraints, virtually all fixtures had to be manufactured in Brazil. Working with local manufacturers, extensive modifications and mock-ups were coordinated to achieve batwing uplight distribution and low brightness downlight optics.

The Brazilian high light level code requirements presented the second challenge.  A building-wide dimming system with multiple lighting zones in each room achieved the criteria and resulted in significant energy savings.  Localized preset scene-based controls with separate dimming of the uplight and downlights in all spaces help produce a smooth day-to-night transition.

Critical to the lighting design are strategies that turn sunlight in this bright climate into useful, glare-free illumination.   Diagonal sunshade louvers on the façade block direct sun to perimeter rooms, while delivering soft ambient light.  The fritted glass of the curving atrium roof, combined with a custom-printed membrane layer below, diffuses much of the sunlight.  The result is pleasantly daylit spaces without glare. 

The large auditorium opens to the garden.  Uplights, downlights, perimeter slot, and track lighting accommodate a full range of events.

At night, the pattern of downlights and wallwashers mimic the curving shape of the atrium floors for circulation and study, while the garden below comes to life.  Task lights are installed at built-in atrium desks. Tree uplights give an overall glow, spreading light and foliage patterns on adjacent walls.  Steplights lead to gathering areas with underbench lighting.   Low brightness track fixtures, strategically placed around the atrium perimeter walls, deliver focused light to seating areas. Pole mounted accents illuminate the performance area.  Washing the four-story mosaic adds color and interest. Concealed linear, narrow-beam fixtures graze the ceiling's membrane layer, revealing its decorative circular pattern.  At the roof terrace, low level lighting creates a perfect evening respite.

Outside, the façades and roof overhangs glow from within at night, supplemented by tree uplights in the landscape.   Planters at the edge of the floor plates are lit with fixtures concealed behind the sunshade system.

The seamless integration of the lighting with the architecture and landscape reinforces the overall concept of a teaching environment in a natural setting, which students have embraced as their own.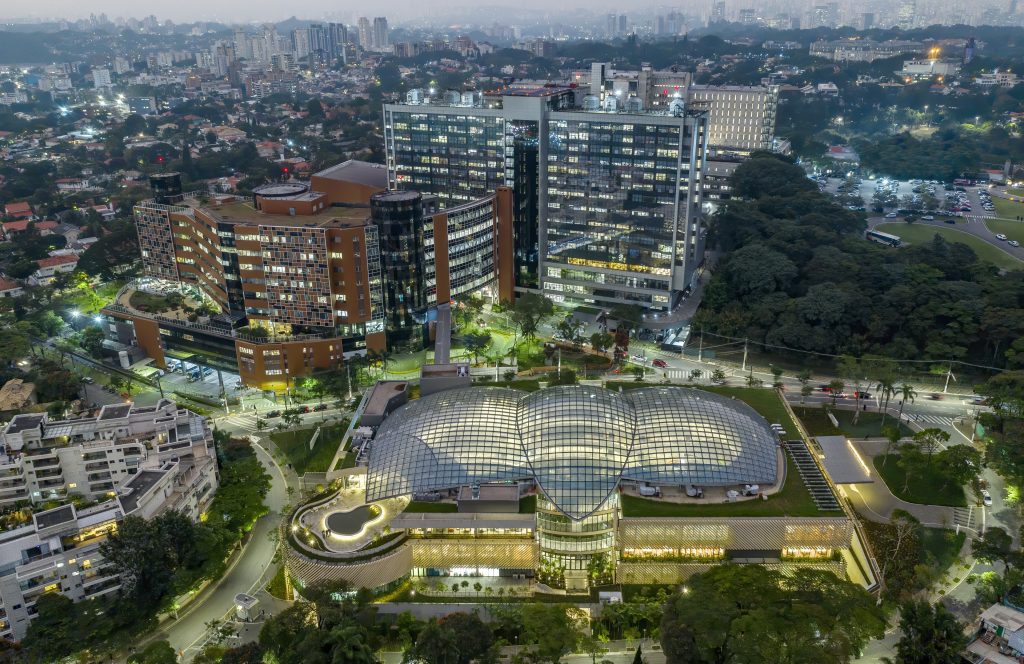 ---
Related Projects